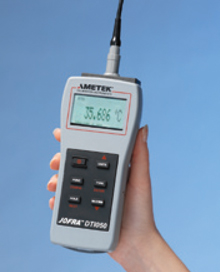 The JOFRA DTI050 handheld digital temperature indicator, offers a measurement accuracy of +0.005˚C. This simple to use instrument with a clear graphical display, offers great flexibility, being able to work with both 'smart' and standard temperature sensors. A fast response time ensures precise monitoring of temperature stability and low drift reduces uncertainty of measurement between calibration intervals.

Supplied with a JOFRA STS-050 'smart' temperature reference sensor, the unit becomes a fully traceable thermometer with excellent accuracy of measurement. It can be used as the reference for accurate verification of temperature for both dry block and liquid bath temperature calibrators or for direct measurement of critical temperatures in a process environment.
Different size STS050 Probes are availalbe, please see the price list below for the sizes.

Features for DTI050
Temperature range -200°C to 2500°C (-328 to 4532°F)
High accuracy 0,005°C
Intelligent detection technology, allowing the DTI050 to read the data from the sensor automatically
Selectable display resolution 0,1 - 0.01 or 0,001
RS232 interface as standard
Calibration software included (CON050 and JOFRACAL)
DTI050 & STS050 SPECIFICATION SHEET
If better system accuracies or a wider temperature range are
needed, we also offer STS-100/102 reference sensors for the
DTI-050. Please find more information in the specification sheet below.
For prices for the STS 100/102 series, please call our HelpDesk.